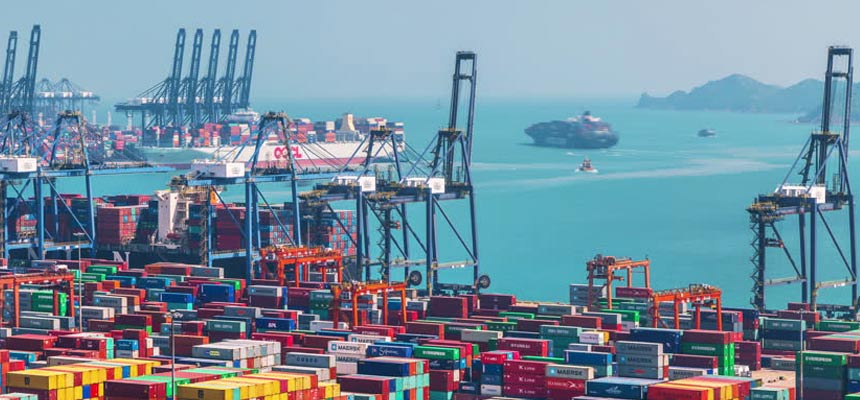 When it is comes to shipping from China, it involves a series of complex operations or simply handing over your goods to the customer while ensuring that the shipping is carried out fast and efficiently .
If you are new to international shipping, the actual shipping process may seem complex. There are so many rules and regulations that you may not know where to start and where to expect.
Once you have learned the necessary basics, the shipping process will begin to become clearer. You can easily manage your china shipments. Here I will discuss what needs to be paid attention to in the international shipping process to guide you in the direction you are looking for.
You Should Choose The Best Way Of Shipping
It is important to choose the best mode of shipping for your company. You can choose different shipping methods according to your requirements and cargo characteristics.
One thing is for sure, international shipping has gone a long way in terms of how many modes of transport are available, and it offers enough ways. You can determine which shipping options are available for your needs.
Land Freight
It is the most cost-effective option for international shipping between two neighboring countries. Generally speaking, this is not a problem for moving on the same continent. You can easily access the road to the country, using overland shipping services.
Overland means of shipping are trucks or other vehicles used in international shipping.
Air Freight
Air freight may be your best option for urgent goods that need to reach their destinations fast. Although it is expensive compared to the other, air transport has many advantages, allowing for rapid access from the one country to another.
Sometimes you have urgent cargo to ship, and if so, air freight has enough capacity to achieve it. Besides, air freight may also be affected by inclement weather and other adverse conditions such as strikes. However, it is quite reliable, especially if airlines operate a large number of flights a day.
Sea Freight
The cost is generally lower than the air. The advantage of shipping is the ability to deliver large quantities of goods. Sea freight delivery may be the most cost-effective option If delivery time is ample.
This is also an ideal and economy way to deliver oversized items, such as machinery. However, the speed of sea freight is very low. According to the distance, you can expect your goods arrival from 7 days to two months.
Containers Shipping Freight
It brings a huge benefit in the delivery of international goods. Overseas shipping is usually combined with air or truck transport to deliver the goods to their final destination, and containers freight compatible with other modes of shipping .
If your goods are not enough to fill the full container, you will need to share container (LCL) with other shippers, then charge the price per cubic metre. It can be seen that the larger the quantity of goods, the higher the shipping cost, the lower the unit transport price. This is why shipping is considered the better choice for large quantities of goods and larger cargo shapes.
Our Suggestion
For different types of cargo you need to ship. Sometimes you have to get the product to the destination fast, and if so, air can meet your needs. Smaller goods can be processed more fast.
When you deal with larger numbers and over sizes, you should try to find more cost-effective options. In this case, the international freight Forwarding Company may advise you to use sea freight. While you can save freight cost in this way, you still need to make sure your goods arrive there within a reasonable time.
Each of these ways provides an advantage for a given situation. By understanding the differences between different shipping options, you can make a decision about how to ship.
How Much Does It Cost
When you are importing from China, you are always trying to get the best deal, which is understandable, but how do you know what you are paying is the right deal. Before international shipments and receipts, it is important to know how the process works, especially with regard to the costs. I will help you understand all the different logistics cost factors.
The Mode Of Shipping Determines The Shipping Rate To A Large Extent.
International shipping prices will vary depending on the mode. Air freight is the most expensive option at the moment. Sea freight, rail and road freight are quite cheap.
sea freight rates and air freight rates vary greatly. the sea freight rates vary according to your choice of full container loading or shared container loading. The delivery of goods involves door-to-door service, as it will significantly affect the cost of your payment.
Depending on your actual requirements and budget, you can choose from three delivery modes offered by shipping services: 1. airport to airport shipping, 2. port to port shipping, 3. door to door shipping.
It is important to choose the best mode of shipping for your company, and you need a thorough comparative analysis to determine which is best for you.
The Weight And Volume Of The Goods Determine The Total Costs.
Depending on the mode of shipping used, the cost can be based on weight and volume, or on any one. For example, for shipping FCL, shipping agents set prices for each container, and the charges are usually based on the number of containers.
On the other hand, for smaller goods that cannot fill standard sea containers, when shipping by air and LCL, the goods are based on the weight and volume of the goods. You may also calculate a larger shipment by weight or volume. The easiest thing to remember is that the bigger the package, the higher the cost of shipping it.
When you're dealing with a larger number, you should try to find more cost-effective options. Large quantities and bulky goods, the cost of air transport is very high, you should use sea.
The Distance to The Destination Is A Factor Determining the Shipping Cost.
The farther the delivery distance, the more you will pay. Long distances mean that shipping companies must pay additional costs to ensure that the goods arrive at their destination.
For example, shipping to an unusual destination can also cost you more, the fee could be a remote surcharge, which is an express service. This factor also applies to all modes of transport.
When considering shipping your items, try to study where you intend to ship, so that you know more about how to apply the method.
The Nature Of the Goods May Also Affect the Shipping Costs.
For shipping dangerous goods, like lithium batteries, it involves safety, and freight forwarders usually charge more.
Oversized or irregular goods require special loading and additional operating costs. In general, you can expect to pay more if the product needs additional security and treatment.
You May Pay For Two-Level Service.
Many freight service companies offer a wide range of two-level service and logistics services, including customs clearance paperwork, shipping packages, warehousing consolidation, insurance coverage, import taxes, etc.
Often, these services require you to pay extra money, and it is worthwhile for professionals to handle the technical and legal aspects of product transport.
Get A Freight Cost Estimate
Sometimes someone contacted me and asked me about the cost or price of shipping from China. Many times they try to transport in the cheapest way,
First I will tell you what information you need to get a complete and accurate shipping quote. In order to get an accurate quotation, you must provide accurate information.
To obtain a freight quote, you will need to provide:

Method of shipping (usually by sea or air).
Delivery mode. (door to door, door to port or port to port)
Destination and start details.
Descript the goods, including weight, quantity and size (length, height and width). (Unless you ship the entire shipping containers).
The nature of the goods transported. The cost of transporting fragile goods is expensive.
Special needs of customers. For example, if you want items to be delivered faster, you may need to pay more.
This information will provide you with an accurate shipping quote.
Follow these tips to get accurate quotes. Make sure the quotation is confirmed by email. Verify that the quotation includes fuel charge, customs clearance fee, declaration fee and shipping cost, and transit time.
If you accept the offer, the shipping agent will get the rest of the details from you.
When you contact Pro China Freight, you only need to fill out a form to get your shipping quote.
Prepare Necessary Shipping Documents
When you are working on shipping from China, you should know the laws and regulations of the country. The common mistake in international shipping is a clerical mistake in document. Besides, your customs broker don't tell you about shipping requirements.
Appropriate documents must be prepared for the smooth delivery and customs clearance. Paperwork mistake will lead to shipping delays, any shipment delayed by customs may result in poor customer experience.
Each country has a set of import regulations, and what documents the Customs needs. The most common customs documents may include air waybill, Bill of lading, Commercial invoice, certificate of origin, shipper's export declaration and so on.
1) Commercial Invoice. This document details the contents of the package, including items, value, weight, quantity, shipper and consignee. Commercial invoice is a mandatory document that the consignor must provide.
2) Bill of lading. International shipping of any kind require a bill of lading or a waybill. The bill of lading is provided by the carrier in writing certifying that the carrier collect the goods, and undertakes to transport it to the destination and the designated consignee.
3) Certificate of Origin. This is an important document, which document details the source of the goods of the country. Different countries have different policies, some countries require to provide certificate of origin when importing shipment.
view this post Shipping Documents to learn more information.
Make Sure Your Shipment Are Properly Packaged
Every time you ship anything, packaging is an important step to ensure the safety of goods. Brittle items should packed in corrugated cardboard boxes and filled with soft materials and foam to prevent abrasions and friction. All packaging should be sealed to avoid leakage, breakage, overflow and other related accidents.
Your goods are money, so you have to be very careful. By carefully packaging from the inside out to ensure the safe transportation of goods to the destination.
We should prepare the goods according to the following guidelines:

Wrap the goods in a solid sealed container, and don't use a too much big or small box.
Packaging should have the correct label to avoid shipping interruptions or shipping loss.
Cargo weight should be evenly distributed to provide solid support in the container.
The packaging should be waterproof and dampproof.
More packaging techniques on the post how to package properly