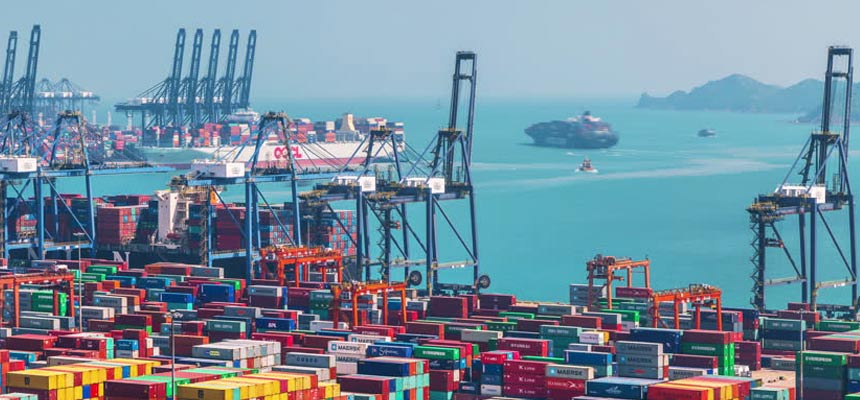 When it comes to shipping from China, individuals and businesses will want to know how to safely send it to their destination. This may be more complicated than shipping goods in your local country.
Shipping goods overseas may seem a bit complicated for some senders, and they need to be aware of some of the skills. Because of the many factors and rules involved, you may not know where to start and where to expect.
If you are engaged in import and export business, in order to receive and deliver goods on time, please be sure to think about more questions.
Once you have learned the necessary basics, it will begin to become clearer. You can easily manage your china shipments.
The following questions can be raised before the import plan(or personal items) is implemented to deliver the goods safely to the final destination:
1. What Shipping Mode Is The Best?
2. Who Will Be Responsible For Arranging Transportation?
3. How Much Does Shipping From China Cost?
4. How To Get A Shipping Cost Quote?
5. How To Send the Goods In Proper Packaging?
6. Are There Any Restrictions On The Importing Country?
7. Which Documents Should Be Prepared?
8. How To Understand The Progress Of The Freight?
9. How To Receive Goods And Clear Customs?
10. What Should I Do If The Goods Are Damaged Or Lost?
You Should Choose The Best Way Of Shipping
It is important to choose the best mode of shipping for your company. You can choose different shipping methods according to your requirements and type of freight.
One thing is for sure, international shipping has gone a long way in terms of how many modes of transport are available, and it offers enough ways. You can determine which shipping options are available for your needs.
Land Freight
For international shipping of countries on the same continent, land freight is usually the most cost-effective option. If your transportation is between two contiguous countries, you can easily access the road and send your goods by truck or train.
Air Freight
For urgent goods that need to reach their destination quickly, Air freight may be the best option for you. Air freight shortens the time required to ship goods at home and abroad, which is very convenient. Air Cargo Service has established a better network system, can provide quality service, ensure delivery on time. But, in the transportation of oversized bulky items, it encounters restrictions.
Sea Freight
For international delivery of sea freight, its total cost is quite cheap. The advantage of maritime cargo transport is to provide a large quantity of goods with extremely cost-effective transport capacity. This is also an ideal and low-cost way to transport oversized items, such as machinery.
The transit time of sea freight is long. According to the distance, you can expect your goods arrival from 7 days to two months.
Containers Shipping Freight
It brings a huge benefit in freight shipping. Shipping agents set prices for each container. If your goods are not enough to fill the full container, you will need to share container (LCL) with other shippers, then charge the price per cubic metre. The larger the quantity of goods, the lower the unit transport price. The common shipping container size is 20′ and 40′, which can load a variety of goods, which is why shipping is considered a good choice for large quantities of goods and large cargo shapes.
Our Suggestion
So before you start, you need to identify some important things to choose the most suitable shipping method:
• Determine the speed at which the goods will be shipped to the designated destination. (how long do you want to get it?).
• The quantity, size, nature and size of the goods you are transporting.
• Your shipping budget.
For the different types of shipments you need to make, if you need to quickly complete the delivery of goods, air freight have sufficient capacity to achieve.
You should try to find more cost-effective options when you are dealing with large quantities and large-size shipments, we recommend that you use sea freight. While sea freight help you save freight cost,, you still need to make sure that your goods are delivered within a reasonable time.
By understanding the differences between different shipping options, you can find which one is right for your business.
Who Will Be Responsible For Arranging Shipping?
In most cases, international trade and transportation may involve two or three parties: buyer, seller, or recipient. In many cases, they are in different countries.
Buyer Arranges Cargo Transportation
According to the sales contract between you and Chinese suppliers, if the freight is included in the contract, the seller will arrange the transportation under the terms of the group C and D. For example CFR (Cost and Freight) or CIF (Cost, Insurance and Shipping). Under the sale contract for these two terms, you have paid the supplier the cost of shipping (CFR) or insurance cost (CIF) to the port. In this case, the buyer is responsible for arranging the main transportation to your port.
Arrange Shipments Through A Buyer's Freight Forwarder
When the contract is under EXW (Ex Works) or FOB (free on board), you (the buyer) need to choose a freight forwarder to arrange shipping from China to the destination. For better control over freight shipping and its costs, you could choose these terms.
In this section, choosing a freight forwarder is what you need to follow. They are a professional transport agent. If you are a business owner, then you already know that using freight services to transport goods has always been one of the practical solutions. You also know that paying as little as possible for your goods to reach the final destination is what you want. Choose an experienced freight forwarder to get professional guidance and save you a lot of time and trouble.
Professionals freight forwarder need to have expertise in all aspects of shipping and customs clearance. They can make your process easier. You can expect these experts to help you in the process of cost determination, document preparation, custom clearance, cargo consolidation and more.
You may need to read:
How to find a good freight forwarder?
Do you need a China freight forwarder?
How Much Does Shipping From China Cost?
When you are importing from China, you are always trying to get the best deal, which is understandable, but how do you know what you are paying is the right deal. Before international shipments and receipts, it is important to know how the process works, especially with regard to the costs. I will help you understand all the different logistics cost factors.
The Mode Of Shipping Determines The Shipping Rate To A Large Extent.
International shipping prices will vary depending on the mode. Air freight is the most expensive option at the moment. Rail , sea freigh and truck freight are quite cheap.
Sea freight rates and air freight rates vary greatly. Sea freight rates vary according to your choice of full container loading or shared container loading. The delivery of goods involves door-to-door service, as it will significantly affect the cost of your payment.
Depending on your actual requirements and budget, you can choose from three delivery modes: 1. airport to airport shipping, 2. port to port shipping, 3. door to door shipping.
It is important to choose the best mode of shipping for your company, and you need a thorough comparative analysis to determine which is best for you.
The Weight And Volume Of The Goods Determine The Total Costs.
Depending on the mode of shipping, the cost can be based on weight and volume, or on any one. For example, for FCL shipping, shipping agents set prices for each container, and the charges are usually based on the number of containers.
On the other hand, for smaller goods that cannot fill standard sea containers, when shipping by air and LCL, the goods are based on the weight and volume of the goods. You may also calculate a larger shipment by weight or volume. The easiest thing to remember is that the bigger the package, the higher the cost of shipping it.
When you're dealing with a larger number, you should try to find more cost-effective options. Large quantities and bulky goods, the cost of air freight is very high, you should use sea freight.
The Nature Of the Goods May Also Affect the Shipping Cost.
For shipping dangerous goods, like lithium batteries, it involves safety, and freight forwarders usually charge more.
Oversized or irregular goods require special loading and additional operating costs. In general, you can expect to pay more if the product needs additional security and treatment.
You May Pay For Two-Level Service.
Many freight service companies offer a wide range of two-level service and logistics services, including customs clearance paperwork, shipping packages, warehousing consolidation, insurance coverage, import taxes, etc.
Often, these services require you to pay extra money, and it is worthwhile for professionals to handle the technical and legal aspects of product transport.
How to Get Shipping Cost Quotes
Sometimes someone contacted me and asked me about shipping charges from China . Many times they try to transport in the cheapest way,
I have handled a lot goods to many countries, such as UK, USA, Canada. First I will tell you what information you need to get a complete shipping quote.
To obtain a freight quote, you will need to provide:
Method of shipping. (Usually by sea or air.)
Delivery mode. (Door to door, door to port or port to port.)
Origin and destination details.
Descript the goods, including weight, quantity and size (length, height and width). (Unless you ship the entire cargo containers).
The nature of the goods transported. The cost of transporting fragile goods is expensive.
Special needs of customers. For example, if you want items to be delivered faster, you may need to pay more.
Send the above information to any shipping agent and they will provide you with an shipping quote.
Follow these tips to get accurate quotes. Make sure the quotation is confirmed by email. Verify that the quotation includes fuel charge, customs clearance fee, declaration fee and shipping cost, and transit time.
If you accept the offer, the shipping agent will get the rest of the details from you.
Are you looking for shipping from China to the US? When you contact us, you only need to fill out a form to get your shipping Cost Quote. You can also transport goods to UK, Germany, Italy, France, Netherlands, Canada,australia, Mexico, India, Saudi Arabia and more, contact us for more detailed information about international shipping operations, and you will also get detailed cost information.
Make Sure Your Shipments Are Properly Packaged
Before shipping, you must send the packaging requirements for the goods to your supplier. There is no doubt that packaging is an important step in ensuring the safety of the goods. Brittle items should packed in corrugated cardboard boxes and filled with soft materials and foam to prevent abrasions and friction. Therefore, all packaging should be sealed to avoid leakage, breakage, overflow and other related accidents.
Your goods are money, so you have to be very careful. By carefully packaging from the inside out to ensure the safe transportation of goods to the destination.
We should prepare the goods according to the following guidelines:
Wrap the goods in a solid sealed container, and don't use a too much big or small box.
Packaging should have the correct label to avoid shipping interruptions or shipping loss.
Cargo weight should be evenly distributed to provide solid support in the container.
The packaging should be waterproof and dampproof.
More packaging techniques on the post how to package properly
You Can't Ship Any Product
Generally, you can ship many kinds of goods internationally. However, certain items are prohibited, like dangerous goods, flammable substances, pharmaceuticals, liquids, currencies and so on. These items are clearly not accessible to some countries. Before shipping, you should know the list of items not allowed so that your goods do not have any trouble on customs clearance.
So you will need to do some good research and find out which products are limited by the two countries, and each country has laws to prohibit some items from being imported. If you want to send a restricted item in China, it will not be admitted for shipment or will be impounded by the destination customs.
You need to keep this in mind that every country has laws that prohibit the importation of certain items. Read this post to learn about the Prohibited and Restricted Goods on importing.
Prepare Necessary Shipping Documents
In order to ensure the safety and legality of import shipment, you should know the customary laws and regulations of the importing and exporting countries. In this regard people are most likely to make clerical mistakes. Besides, your customs broker does not provide the necessary information for your items.
Appropriate documents must be prepared for the smooth delivery and customs clearance. Paperwork mistake will lead to shipping delays, any shipment delayed by customs may result in poor customer experience.
If the document is not properly prepared, it will lead to:
There is a problem with shipping when clearing the origin Customs.
When the goods arrive at their country, the consignee will not be able to clear the goods through Customs.
The customs department of the importing country may detain or seize the goods.
Customers may be fined by the Customs.
Each country has a set of import regulations, and what documents the Customs needs. The most common customs documents may include air waybill, bill of lading, commercial invoice, certificate of origin, shipper's export declaration and so on.
View this post Shipping Documents to learn more information.
How To Understand The Progress Of The Freight?
If you are concerned about the operation of the goods during transportation, please use the cargo tracking. It must be said that cargo tracking is an extremely excellent service. Many shipping companies offer cargo tracking to allow shippers to obtain information about the exact location of the goods.
Say goodbye to the era of information blocking in the past, do not need to call to ask, or wait for the goods to arrive at the destination to be notified, the freight company provides online tracking services. On the shipping company's website shipping tracking page, you can get the position and status of the goods at the time by simply entering your waybill number.
Cargo tracking is another important aspect because it helps to understand the status of your goods and receive your goods. You can also arrange your picking plan according to the location of the goods. If there is any detention, the shipping company can notify you in time and take measures to cope with the delay.
Cargo Tracking services are also important to provide good customer service, which can reduce the tension of customers waiting for goods. During the transportation, you can track the cargo transportation through cargo tracking.
How To Receive Goods And Clear Customs?
Before the goods arrive at their destination or port, the consignee must prepare the relevant documents and send them to the customs clearance agent to speed up the cargo withdrawal when the transport vessel stops at the port. After obtaining customs clearance, the officially recognized bill of lading should be processed, cleared, collected from the warehouse and transported to your warehouse.
Customs clearance of seaborne cargo is usually not handled by the consignee itself, they must rely on the services of the forwarding agent to perform this operation. The consignee should employ the services of a reputable freight forwarder to take care of their interests.
In the case of air freight, it is easier and less time-consuming for the consignee to handle customs clearance and cargo collection. Depending on the destination, it may also be necessary to hire a customs clearance agent to complete the process.
When the goods arrive at the destination, the cargo station will issue a notice, you need to clear and collect in time, otherwise there will be warehouse fee.
What Should I Do If The Goods Are Damaged Or Lost?
It is disturbing to see that your cargo is damaged or lost. No one wants to receive the damaged goods. If this happens, you need to take the necessary steps immediately.
If your goods are lost, the goods sent for air cargo. First you contact the shipping company or shipping agent. Some of the goods may have been omitted somewhere in the warehouse of the transport company, or were transported to the wrong destination. In this case, the shipping companies were able to locate them and resume transport. However, they could not retrieve the lost package, which became the same as the package that was damaged in some way during the transport process.
If the goods are damaged, you can hold the company responsible for the transportation and ask the shipping company for compensation. If you are unsure of the amount, you are not advised to give an estimate. It is best to take the responsibility of the freight forwarder to the fullest extent and clearly identify the most probable cost.
You must perform these operations if you receive damage to the goods or the goods are missing.
1. The packaging of the goods, any damaged items and seals together to save. Take pictures and make video recordings of packaging and damaged goods.
2. Make representations to the shipping company that is responsible for your goods.
3. Ask your freight forwarder to check for non-compliant operations in transit.
4. If your goods are insured, contact your insurance company and notify them of your damaged goods for further processing.