Everyone wants to transport his cargo safely, and packaging is important for the safety of anything sent from one place to another. Packaging is considered to be a very important and very considerate process that primarily affects almost all activities of the business. Whether you are sending an order to a customer or transporting goods from elsewhere, you must follow the correct packaging procedures to ensure that the packaging is intact.
In addition to preventing damage, packaging must also be cost-effective, and the cost of packaging has an impact on e-commerce. Packaging is not complex and expensive for shipping, you do not have to use every available packaging material.
How to transport safely is a top concern for all of us, and here are some instructions on how to properly package the items being transported to ensure that this does not occur damage during transport.
You Should Know 3 Packaging Containers
There are many different types of packaging materials to choose from, most of which depend entirely on the goods or products being transported.
Shipping mode also affects the use of packaging, for example, sea fregiht requires more packaging, and air freight has simple packaging requirements.
The outer packaging provides initial protection. Let's get to know your packaging material options.
Packing Bag
If you have a lightweight item that you may not need to cushion, it is very easy to use a packing bag. Packaging bag are made of elastic materials such as plastic with waterproof and tear-proof functions to ensure that items are securely contained in bags during movement.
Packaging bags are widely used in logistics, such as courier delivery, they are easy to ship, with weight and size restrictions.
We often see FedEx, DHL, TNT, UPS Packaging bag. Their specifications are as follows:
FedEx Large Bag: 30cm * 39 cm.
FedEx extra Large: 44cm * 53 cm.
DHL packaging bag: 36cm * 48 cm.
Corrugated Packaging
Corrugated packaging is the most widely used material for packaging heavy weights and breakable items. Designed for maximum strength, you will usually find a single-sided, double-sided or three-wall form of corrugated cardboard. Corrugated cardboard is made by special process, which can withstand a certain pressure, with buffering effect and full of flexibility. It is considered ideal for packaging fragile items.
The features of corrugated board: corrugated cardboard boxes and cardboard have three or more layers of paperboard. In this regard, corrugated board is different from ordinary cardboard.
As a complex material, corrugated cardboard consists of three different parts, lining, outer lining, grooved.
These cardboard layers form outer linings, and the lining is made of hard materials to prevent any kind of damage. These layers surround the space that provides cushioning effects, so that packaged goods can withstand shocks in transit.
he last layer on the Corrugated cardboard is called the groove medium, which makes the corrugated box durable. It is a piece of special paper that wrinkles when it suffered stress and heat. The separation of the lining and the outer lining of the components is to ensure the protection.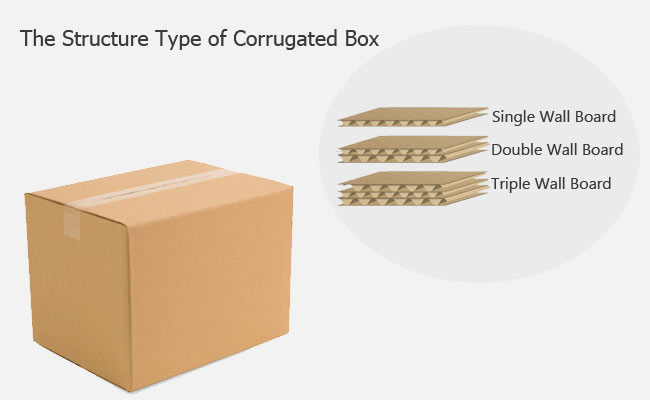 Benefits of Using Corrugated Cardboard Boxes.
The complex process of corrugated board is essential for its advantages. The following are the useful properties of the material:
Protect the Environment: Corrugated packaging is also an environmentally friendly choice, cardboard is usually made from recycled materials, it can be used over and over again.
Cheap Materials: Corrugated cardboard is always cheaper than other heavy packaging containers, and is easy to get and lightweight, which reduces shipping weight.
Safety: No sharp edges or debris of the danger, square corrugated box are convenient to storage, when not in use, carton can be folded up to save more space.
Customized Design: Corrugated packaging can be tailored to suit your needs. Modification involves type, hardness, weight and handling. Besides, any enterprise or buyer can choose size and unique shape design. It is easy to print your company name, logo and other details on the cardboard box.
Corrugated packaging is really a versatile, reliable and cost-effective choice for your business packaging needs. As you may have guessed, when it comes to transporting or distributing bulky or heavy items, occasionally tending to wooden packaging.
Wooden Box Packaging
Wooden box packaging is a pop packaging, it is to use to store and protect goods . It was originally designed to facilitate the transport of warehousing and the production . Some goods that are very fragile and easy to damage should be reinforced with wooden packaging containers.
The use of wooden packaging has changed greatly, the traditional wooden packaging is to protect the shipped goods.
The actual role of wooden box packaging has changed greatly. Wooden packaging not only continuously improve the performance, but also achieve beautiful appearance .
Some of The More Common Filler Materials
Boxes or packaging may not be the only packaging material. The first thing you need to make sure is that the cargo doesn't move in the box, we need to use the buffer to fill the free space inside the box, and they stop the item from moving during the traffic.
Damage may occur if your item is not the same size and shape as the packaging being transported. The task of filling material is to cushion and protect the packaging from impact. This is why the foam packaging becomes so popular because they fill the gap that prevents the object from moving. This is a very effective step that should be used to help avoid any damage in transit.
In many case, some of the more common filler materials may include packaging peanuts, paper molds, Inflatable airbags, wrapping papers and bubble wrap.
Styrofoam Packaging
Polystyrene Foam packaging material is a popular and effective internal packing filler. This wonderful product is one of the best ways to protect easily broken items.
Polystyrene foam packaging material is made of very lightweight materials. It is easy to cut and can be made into various shapes to fill the space within the package. If the packing space is superfluous, don't worry about using a lot of cushioning material. Lightweight foam material does not add too much extra shipping weight, it is worth it. It buffers everything and prevents objects from colliding with each other inside the box.
If you ask your supplier or freight forwarder to fill your packaging with foam material, it will not increase the shipping cost too much. Polystyrene foam packaging material a cheap material, it is also cost-effective.
Air Bubble Film
Bubble paper is a kind of green environmental protection of new shockproof cushioning materials. Because of its ability to comply with the protection of transport goods and quickly become a transport product, the content is wrapped in a bubble cushion appears to float in a safe area, which can provide a reasonable impact resistance for most products.
You can also use more air bubbleto fill the blank space in the box, which softens the extrusion and impact that may result from the transport process, thus enabling your product to reach its destination safely.
What Packaging Skills Do You Handle?
Once shipping for a long time, especially overseas, it is important to be packaged in the right way. For safe transport, Here are 4 tips you can use for your shipping.
Use Suitable Boxes and Enough Buffer Materials
First, make sure it's in the right size box. If it is too big or too small, it may collapse under any pressure. You also need to make sure the box is of good quality. Corrugated cardboard is always preferred and is usually used to provide extra reinforcement for the walls of the box. Besides, you can choose a box made of wood and plastic.
If you send anything fragile, it's always good to use plenty of cushioning to protect the packaging. Loose buffers fill the free space in the box, and they prevent items from moving throughout the traffic. Fragile items should also be placed in the middle of the box and filled with soft foam as much as possible, which can greatly reduce the chance of damage.
Use the Box-in-box Method
For items that are very vulnerable or require special treatment, you should use double boxes, they are stronger and can handle more weight.
Put them in small boxes and wrap them in another larger box. Further, you can also use the soft packaging materials to wrap these items in the inside box. In this way, a double box can provide strong protection if the box is rudely handling during transit.
Packaging Consolidation
Many people often see packaging tape when handling packaging materials. Packaging Tape is specifically for packaging. In order to further strengthen the cartons or wooden cases, we usually use plastic bandage, and the iron bar is suitable for wooden cases.
The Last Touch
Every in the freight cannot be treated rudely, and it is a good idea to write signs on the surface of packaging in "Easy-handle with care" or "No collision". In this way, everyone who touches the box will be particularly careful.
Every packaging in the freight cannot be treated rudely. It is a good idea to attach tags on the surface of the packaging, such as "Easy-handle with care" or "No collision". In this way, everyone who touches the box will be particularly careful.