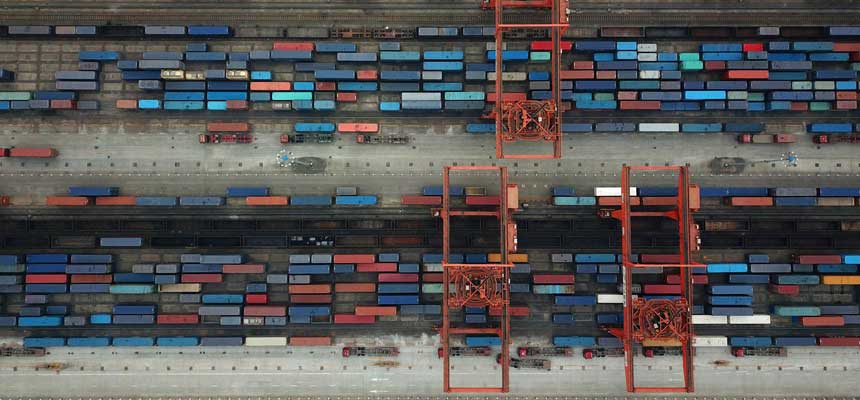 You are shipping from China to Europe, and if the infrastructure of your destination allows us to use trains to transport goods, is rail freight your choice?
With the development of the international freight forwarding industry, international shipping is growing rapidly, with billions of tons of cargo transported worldwide by air, sea, and land. Yet China's freight industry to Europe has been growing steadily, so it may be in a better position than its international rivals, which offer much lower prices.
Here are some options for you. How will logistics services be more beneficial?
It turns out that the cost of transporting goods by rail between China and Europe is equivalent to one-third of the cost of air freight, equivalent to sea freight.
Rail freight is one of the cheapest ways for China to transport goods to European countries. Do you know about this service? Suppose you use trains to transport your goods to France, UK, Germany, Belgium, Netherlands, Poland, Spain, etc.. In that case, you will certainly benefit from it. Rail freight is cheap and friendly to the environment.
Why Should You Choose Rail Freight?
The use of rail freight services in bulk cargo transport is increasing. China-Europe Rail Freight provides competitive services for the transport of goods. This provides a cheaper solution for shippers because freight trains can transport goods that could otherwise be transported by air. This is because rail freight has many advantages over other options.
Not Affected By The Weather
General weather, such as rain and snow, does not hurt railway freight. Inclement weather conditions, such as heavy snow and ice, can cause freight delays on the railway track.
Freight Is Cheap For Long-Distance Transportation
Rail freight services charge relatively low rates compared to other means of transport, such as air freight and commercial courier. The transport and fuel costs involved in rail freight are low. If you compare the cost of air and rail freight to transport goods of the same weight and size, you will see rail is cheaper.
Transportation In Large Quantities
As with sea freight, trains carry containers, and trains can carry many containers every time. Rail freight has a higher capacity of shipments than most other vehicles that provide regional freight transport. 20 and 40-ft containers can meet your extensive transportation needs.
China-Europe Railways Freight VS Sea Freight
Let's compare the differences between China-Europe rail freight and sea shipping. The advantages of rail freight are fast and high capacity. After the goods arrive in the destination country, they can be more easily transported by land for the last delivery, which effectively shortens the time to the door. The characteristics of sea freight are large-volume shipment and low costs, but its disadvantages are slower and less reliable, there are many uncertainties when the ship's on the sea.
What Are The Advantages Of China-Europe Rail Over Sea Freight?
In terms of the cost of shipping, sea freight is a bit better than rail freight, but with the opening of the China-Europe rail, the railway can transport to more countries at a low cost. The delivery time by train is slightly shorter than by sea, strengthening the supply chain.
Large cargo ships need deepwater ports, making them less city. Unlike sea freight discharge at ports, trains can reach more inland cities in Europe. Rail and sea freight are competitive relationships, but they are more complementary.
China-Europe Railway Schedule
Every week, trains depart in the following Chinese cities. This will make it easier for you to manage the shipping process and calculate the delivery date according to the shipping schedule. As freight forwarders, we will assist your company in the logistics chain.
RouteDeparture Time
Chengdu China – Netherlands Wednesday, Saturday
Chengdu China – Nuremberg Germany Friday
Chengdu China – Rhodes, Poland Monday, Tuesday, Thursday, Saturday
Chongqing China – Duisburg, Germany Monday, Tuesday, Saturday
Changsha China- Hamburg, Germany Saturday, Sunday
Wuhan China – Duisburg, Germany Friday
Wuhan China – Hamburg, Germany Wednesday
Guangzhou China – Moscow Russia Saturday
If you want to know more about this, check with us about the timetable for China-Europe Rail freight before estimating the shipping time.
What Pro China Freight Do For You In China-Europe Rail Freight?
As a professional international freight forwarder, we are licensed to transport different types of goods and transport them. Once you have hired PRO China freight, we will make additional efforts to transport your goods efficiently from picking up.
DDP Service
Are you fretting about import duties? Import tariffs remain an important part of the cost of trade imports. Don't treat it properly, and your wallet is bleeding. You may pay too much, and you may get penalties.
The rail freight we offer to you includes a tariff solution. What you get the price from us have included the cost of destination tariff and import.
Door To Door Delivery
Door-to-door delivery services are responsible for picking up goods at the point of shipment and transporting them to the destination. Door-to-door service is available whether you are shipping items abroad or by air.
Shipping companies come to the door and pick up your cargo and disperse it at the nearest container terminal. Upon the train's arrival, your goods will be cleared through customs, unpacked, and safely unloaded. The delivery man will deliver the item to you. Through door-to-door service, professional shipping companies can reduce stress.