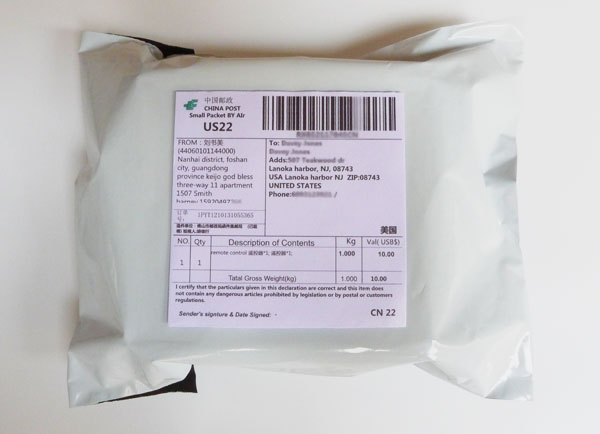 For any of your postal needs, it may be business and home, and China Post provides you with the right solution. China Post offers its consumers viable options at a bargain price to increase flexibility and convenience when sending mail and parcels.
Now we handle fast international shipping through major shippers such as FedEx and UPS, and few people use postal services. While these shipping companies can provide you with fast and effective service, you need to pay more.
In many cases, the international transport of small parcel packaging rates are high, for small packages weighing in 0.1kg, 0.2kg, will be charged at 0.5kg, which is expensive for people who need to send a large number of small packages. As a result, postal services offer cheap options.
Postal services are the cheapest way to send large envelopes and small packages that weigh only 0.5kg or less, which meet most people's needs.
China Post ePacket
ePacket(EMS) tis a small parcel service provided by China Post for e-commerce fulfillment. China Post is an independent government agency provided by the Chinese Government that provides fast, reliable and efficient postal services to all places. Another aim of the agency is to provide postal services covering multiple regions at very affordable prices.
China Post can not only ship mail in its own country, but also deliver your mail and parcels anywhere in the world. There are various types of message delivery. You can choose to use surface post or ePacket(China Post Air Mail). Priority International mail can reach more than 220 countries and regions around the world. These China Post Air Mail can be delivered within 6 to 20 working days, depend on the local post delivery.
The Postal International Small parcel service also allows you to track and confirm your mail or package. Simply enter your waybill number to access its official website and see the shipping status of the package. Cargo tracking is an excellent service that you can even monitor in transit.
Main features of China Post International Air Mail
Suitable for lightweight and low-value shipment, <2kg and <$100 value
Send via air shipping from China and then enter standard class mail in the destination country.
5-10 days to China's neighbors. 7-15 days to major countries in Europe and the US. 7-20 days in other regions and countries.
Post office handle Customs clearance (Customs duties and taxes paid by the consignee)
Provide packaging identification number (Online Parcel Tracking)
Free return of items that cannot be delivered.
Charging Rules
ePacket cost basing on the actual weight billing, and air mail need to pay $1 for tracking fee.
Restrictions on China post ePacket:
There are strict rules for postal small bags. Depending on the location of the transport, there may be different rules on how to prepare the package size, package weight and acceptable material type. In order to ensure that packages are delivered quickly and in the most efficient manner, shippers should learn and comply with the rules and regulations governing international shipping.
Weight limit: Small parcel weight does not excess 2KG.
Package minimum size limit: Conventional package: 15x10x2cm.
Cylindrical package: The sum of twice times diameter and length ≥17cm, minimum length ≥10cm.
Maximum package size limit: Regular package: length + width + height ≤90cm, maximum length ≤60cm.
Restricted Items
Many shippers don't know rules and regulations that can be mailed through China Post and many major carriers.
Air freight restricts certain goods, such as dangerous items, as well as alcohol, tobacco, cash, infringing products, etc., they cannot be transported internationally, it cannot be sent through airplane.
ePacket is Good E-commerce Business
If you run e-commerce retail, then an element in your daily process is unavoidable: shipping and order fulfillment. You are faced with the problem of transportation and fulfillment costs. Excessive costs weaken the profits of e-commerce companies.
The postal Package service offers very low transportation costs. On the one hand customers want free delivery service, they are willing to endure longer delivery times and slow transportation speed.
Postal services offer discounted shipping costs, you can enjoy low-cost transportation and provide free shipping for customers. The provision of free delivery services is a means for e-commerce to increase sales and improve the conversion rate of shopping carts.
Except postal services, some e-commerce companies provide higher quality services through courier companies such as DHL, FedEx, UPS, TNT.
Besides, many online e-commerce sites and small retailers use dropped goods to complete order fulfillment, such as EBay sellers.
You can compare each solution to see which one is best for your needs. Because they are provided in roughly the same way, consider the cost and delivery time of both. Doing so will enable you to choose the best e-commerce shipping and fulfillment provider for your e-commerce business.
In shorts: postal packets to provide lower cost delivery services for small businesses.
What Is The Difference Between Postal And Courier?
Postal Small package is the service provided by government agencies. In the past, mailing parcels through postal services was one of the most common ways for individuals or businesses to deliver small products. The minimum billing weight of a postal package is 0.1, which is more flexible and cheaper than the regular courier 0.5kg while using a small package service.
Courier companies are specialized in commercial and global shipping similar shipping companies, such as Top 4 Couriers – DHL, FEDEX, UPS, TNT, SF Express. The services of these companies are very competitive and offer some additional advantages.
In fact, many courier companies ship their ground or regular parcels faster than China post. Another advantage is that they will ship heavier, larger packages. The maximum weight of their transport is a single packaging of 68kg (150lb). This is unmatched through the ePacket service.
Courier companies guarantee their delivery times, but you obviously have to pay more: they are much more expensive than postal packets (sometimes even twice to four times the cost). International air packets are cheaper, but they do not guarantee the delivery time.
Conclusion
Each country provides postal services, such as USPS in US that provides a flat rate of service. Then there's Canada Post. You can get their services.
Are you still looking for ePacket service and more favorable small parcel shipping services, such as those provided by DHL, ple ase contact us to enhance the competitiveness of your e-commerce business.