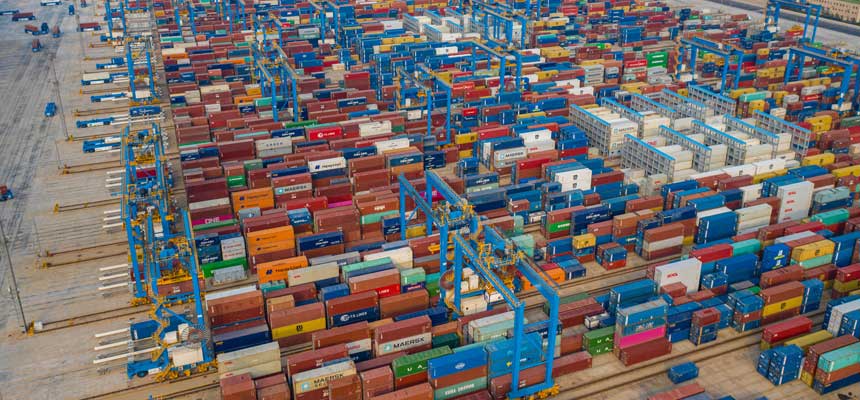 Some companies have many advantages in importing or exporting goods. Manufacturers and distributors can order directly from Chinese manufacturers and save on purchase costs. In many parts of the world where there is demand for Chinese products, and international freight volumes continue to grow. If you need to ship goods from China to the UK, what is your transportation option? One thing is for sure, you have to look at all available options and then develop long-term and short-term strategies.
You have two main options. You have two options for sea or air transportation. The first option will take a long time, but the latter can help you fast shipping from China to UK. Consider the pros and cons of both options, as well as your needs to make a final decision.
Sea Freight To The UK
Sea freight to UK is the most economical way to transport your goods. Your cargo is loaded and secured in the container, and the size of the container you need depends on the quantity and size of the cargo you are transporting. The container size ranges in size from 20FT to 40FT high cube. Containers can be loaded at ports or depots, and transport companies arrange vehicles to load into the factory warehouse. Once loaded, it is trucked to the port and loaded onboard. Most ships depart on a fixed schedule, which means that all cargo must be documented in advance, as any delay could cause problems for the shipper.
If you ship from China to UK via sea, you are likely to process the following input ports; Southampton, Sheerness, Eminem, Liverpool, Newcastle and Grangemouth. And departure ports in China: Guangzhou, Shenzhen, Xiamen, Shanghai, Qingdao, Dalian.
Air Freight To UK
Air freight is widely used for international cargo, because of its timeliness and in fact can be moved and placed in a short period of time, so convenient. But in order to deliver faster, you have to pay more. This type of international freight is much faster than shipping. In fact, cargo can arrive at the designated airport within a day or two of take-off. This mode of transport is very convenient and our departure airport covers the whole of China.
The cost of air freight is determined by the weight and quantity of the goods. Air freight is generally more expensive than other shipping modes. However, for smaller cargo that cannot fill standard shipping containers, air freight is cheap.
Courier service
It is the door to door service, which is provided by well-known shipping companies such as DHL, FedEx, UPS, for international parcels, they can now ship it almost anywhere in the world in just a few days. Next Flight Out, also known as NFO, is a fast service and NFO means delivering your goods on the next available flight. NFO service is a time-critical transportation solution that will use the best route to ensure your package reaches its destination at an accelerated rate.
The above three modes of transport can meet most of your transport needs. If you have any type of freight, you have to ship to another country, and its required arrival time is the most important thing in your mind, followed by shipping costs.
Shipping From China To UK Cost
International transport costs will vary according to many factors. The significant impact on transport costs is the mode of transport you choose and the weight of the goods, different modes of transport price, weight and quantity determine the cost of transport. We know that for smaller cargo that cannot fill standard shipping containers, the cost of transporting the goods is based on the weight and quantity of the goods. In addition to the two main factors listed above, there are many other factors that can change the final cost of transportation.
These issues may include
Your goods are treated as specific goods by the shipping company rather than as ordinary goods.
The exchange rate of your goods may change during shipment, affecting the price.
Seasonal changes lead to season surcharge, fuel charges.
Surcharges, such as quarantine or safety charges.
The type of goods, overweight and irregular size of package can all affect costs.
It will take some time to find the best way to transport your goods. Are you looking for shipping from China to UK cost? Please contact us to get a quote.
What Service You Would Choose?
For international transportation, you can make different choices. Air freight can complete your order fast. Sea freight involves the decision of the type of shipping container you need, whether packaging clearance services are required, and whether port-to-port or door-to-door services are required. Depending on your needs, including your country of transport, time expectations, cost budget, you want to send the specific type of goods to, you can consider a range of different options.
Especially for international shipping, people cannot do it all on their own. In these cases, the best solution might be to use freight forwarder. An excellent and reliable freight company will provide clear and useful guidance and information in a clear and useful way to make the best decision for your cargo transportation.
How Long Ship To UK
This question can easily appear in your mind, how long you can receive goods from China to UK. The basic principle of shipping is that the faster you want the product to arrive, the more money you will have to pay. In most cases, if you pay more, they can speed up the entire shipping process and sometimes guarantee delivery times.
We know air freight and courier service, it may be faster to complete delivery, courier service includes door-to-door option.
The delivery time of sea freight is long, there is nothing to say, it takes a long time for the ship to sail in sea. you should know long does air freight and sea freight from China to UK.
By Air: 3-5d
By Sea: 18-25d
What To Prepare For Paperwork
International customs regulations for the country in which you are shipping goods, you need to provide the necessary documentation. Depending on the mode of transport you choose, you may face different documentation needs. Many people find a large number of paperwork and documents to ensure that their goods can be cleared smoothly. If you mishandle customs documents, such as filling in incorrect cargo information or missing documents, this will delay your shipment at Customs for days or even weeks! In order to avoid delays caused by paperwork, many shippers are working with professional customs brokers to make their shipping easier.
You must prepare multiple documents for calculating and paying freight, customs and excise duties.