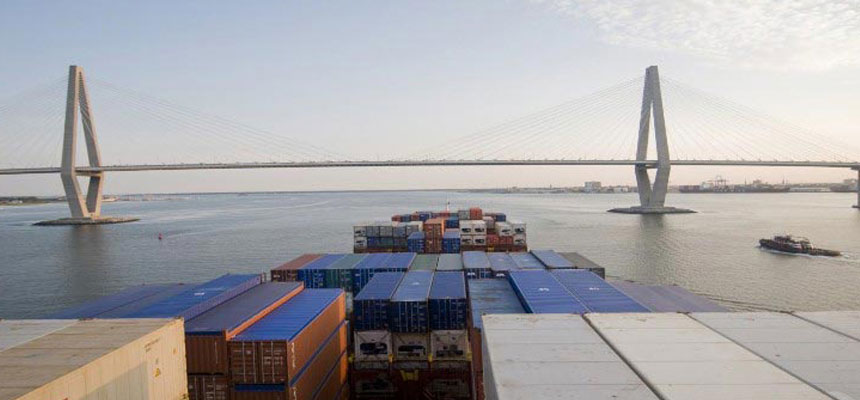 Container shipping is an ideal choice when you have a large quantity of goods to be shipped from China. No matter how far you want to transport, the volume of goods, these containers can meet your needs, to ensure that your goods are safe.
Today, cargo containers play a vital and even indispensable role in transporting large quantities of goods from factories to another location. Cargo containers are widely used in shipping and can also be loaded into multimodal transport systems for railways, trucks and container ships.
Container shipping is quite economical relative to air freight. You can choose containers to ship a variety of products. It certainly allows you to save your money.
Why Is Container Shipping So Popular?
Container shipping is mainly a part of the commercial transportation and logistics industry, which is better known as the lifeline of these industries. You will be surprised to find that it drives global trade development. Some advantages of container shipping include.
Their Own Advantages: They are usually made of steel, curved with wavy shapes to get additional rigidity. Nothing can be more durable than steel, so the walls of cargo container are more stable and stronger, as it can resist crushing.
One of the features of cargo containers is that they can be stacked together to maximize the use of available space and save space. Besides, these containers have great safety in shipping goods because they are weatherproof.
Advantages of Shipping. The use of containers has proved to be a great increase in the efficiency of handling and transportation goods at port, reducing transport costs and facilitating trade flows.
How To Choose The Right Cargo Container Size
To obtain international freight, you need to know the size, quantity and weight of the goods you are transporting. Once you have this information, you can start to get a shipping quote. Depending on the quantity of goods transported by your company, you will decide which type of cargo container to use. Despite there are many different types and sizes of freight containers, most companies usually use 3 types of containers, 20ft and 40ft, 40ft high cube containers.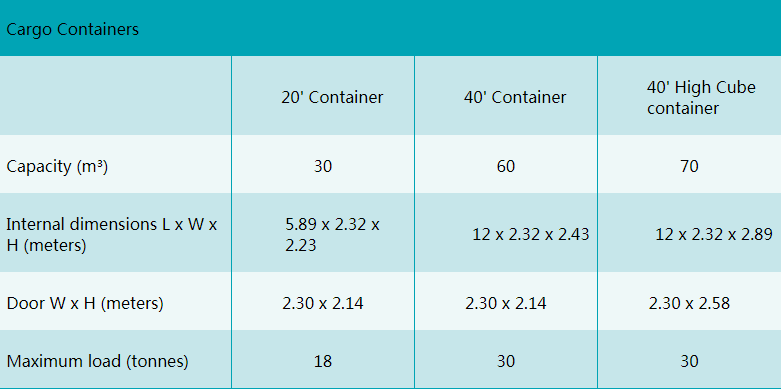 However, the size of the cargo container may vary by country.
In general, most shippers can use 20ft containers or 40ft containers, which can hold the maximum volume of 28 cubic meters and 57 cubic meters respectively.
For larger shipments, you may need a larger container, such as 40′ high cube containers. A 40 foot high cabinet container can accommodate up to 67 cubic meters. After all, high cube container usually allow you to ship higher and more items.
After calculating how much goods you want to ship, you will decide whether to ship 20 ft or 40 ft containers.
First you must calculate the quantity of goods you want to transport before your shipment from China. Depending on the quantity, different sizes of containers can be used. In fact, selecting the right container will help you cut costs.
Experienced shipping companies can help you figure out the size of your goods and match the most suitable container types, free estimates of how much you will need to pay for shipping containers to your destinations as well as more information on international container shipping.
People can choose the mode of shipping according to their requirements and budget.
LCL Shipment
Sometimes you may have international shipping cargo that is not enough to fill 20 ft or 40 ft shipping containers. What are you going to do? You should use less than container loading to ship the good. This will undoubtedly be the most cost-effective mode of transport.
Therefore, you need LCL services, also known as part container loading services. Most general shipping companies offer LCL shipment options. Shipping companies merge different goods that ship to the same destination. The beauty of LCL shipping is that it offers an excellent price for small and medium-sized goods, which is undoubtedly the cheapest way for shipment from China.
Usually, the shipment process with part container shipping services is very simple and carefree, arranged by your designated freight forwarder. All ocean shipping companies measure dimensions in metric units and weight of cargo, and in order to calculate the weight more accurately, you can consider the total product volume. The LCL rate is calculated on the basis of "per cubic metre".
It is also to be remembered that not only is there a need to pay the shipping costs from the port of origin to the port of destination, but also some surcharge, such as:
Dock handling
Document fee
Port Security
Customs
Delivery fee
There are many different types of surcharges that raise shipping cost.
LCL Freight Calculation
If your goods are too large to fit into any type of shipping container, you can use the so-called bulk cargo shipping. In any case, bulk and LCL goods are based on volume charges. In calculating the shipping cost, the LCL cargo occupies the space cost of the container. Usually the quantity of cargo in the freight container is explained with Cubic Meters(CBM). The size of one cubic meters is one meter wide, one meter long, and 1 cubic meters is equal to 35.3 cubic ft.
Cargo Volume Calculation formula: Length * Width * Height
For light cargo, here's a formula to calculate the volume weight of the goods. Chargeable weight is the maximum of the actual weight and volume.
Volume Weight Calculation Formula: Volume of cargo divided by 6000 of factor
You should remember that not all quantities of goods apply LCL shipping, the lowest minimum order Quantity of LCL shipment is 1000 kg or 1 cubic meters. Below this threshold, there is no LCL services, but you can choose other modes of transport by air freight, or courier services.
Make a Comparison with air freight Calculation
Air cargo can be calculated using the shipping formula provided above.
FCL Container Shipping
Full container loading is that goods need about 20 feet or even 40 feet of space when the importer or exporter has enough goods to fill the full container.
FCL freight is considered to be the most optimized container shipping method. It involve cargo volume and weight as well as transport rates.
The service includes loading cargo into empty container at the place of loading, which actually can occurs in the customer's factory or supplier. Multiple shipments transport containers to the port of loading through a container truck or train, then the container is shipped to the port of destination. After arrival, you will have to clear customs and pay port fees, then pick your goods or wait for the receiving container.
The FCL has the advantage of faster and safer transportation than LCL shipment. Because of the combination of different goods, LCL shipment often takes longer time.
Several advantages of container multi-transport include.
To Transport And Storage Goods Safely. When the goods are properly packaged and sealed in the container, the goods will not be damaged during the long transit.
Eliminate the Handling. Once the goods are loaded into a container in a factory or CY. The container is sealed, and will not be opened during transport until it reaches the final destination.
Various Types Of Transport Containers For Specific Purposes. There are various containers for transporting different types of goods, such as temperature control or refrigerated containers.
Special container can safely transport perishable goods that need to be stored at stable temperatures. Besides, open-top containers are usually used for transporting heavy equipment or bulk cargo.
Little or No Theft. When the goods are transported with a sealed container, the cargo compartment will also be fitted with a safe lock box to prevent thieves from entering your container, and the likelihood of theft is greatly reduced or even eliminated.
Save Time and Increase Efficiency. The use of containers means that ships or barges use cranes to load and unload containers faster, meaning less time and more efficient ports.
In general, FCL shipment is the most suitable for oversized cargo. If you need to complete international shipping, the full container shipping will become your real efficient choice. International delivery of FCL will be safer.
Full Container Shipping Rates From China
Finally, we often ask how much the shipping a container from China.
The cost of the container shipping depends on the type of container you use to transport, port of loading, port of destination and additional charges.
For example, The price to ship a full container shipping of 20-foot from Shenzhen to Los Angeles is currently about $1200, and a 40-foot container is $1600. (the cost of 20 ft container is only 75% of the cost of 40 ft container).